PIA DAMSTEN & KRESHNIK RAMA (2018)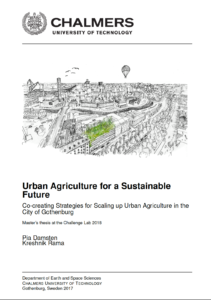 Urban Agriculture (UA) has recently gained growing attention from the world's leading global organizations, as it has been identified to play a major role in the world's bid for achieving the sustainable development goals. Although the number of UA initiatives in Gothenburg has increased, the practice remains largely deprioritized, and poorly integrated into urban planning. The aim of this thesis is to highlight the potential of UA as a tool for creating a more sustainable city, and together with stakeholders co-create recommendations for scaling up UA in Gothenburg. The benefits and drawbacks of UA are explored through literature review, and inspiring examples from around the world are presented. Qualitative interviews are conducted with local triple helix actors, and a force field analysis is performed to identify driving and restraining forces for developing UA in Gothenburg. Finally, a stakeholder workshop is facilitated, in which recommendations for developing UA in Gothenburg are co-created. A case study is included in this thesis, relating to the educational background of one of the authors. The case study explores the symbiotic potential between urban aquaponic farmers and hospitals in Gothenburg. Findings show that UA has benefits relating to several of Gothenburg's sustainability goals. Many of the restraining forces identified in the force field mapping have been addressed in inspiring UA examples from around the world. The stakeholder workshop addressed two of the restraining forces for scaling up urban agriculture; providing space for UA and establishing a local food-strategy. Multiple recommendations were documented as a result of the workshop. The case study shows that the skin from tilapia fish has been successfully used as a biological dressing for treating burn injuries abroad. The benefits and drawbacks of a collaboration between local aquaponic farmers and the burn treatment unit of Gothenburg should to be further explored.
The results suggest that in order to achieve the regional sustainability goals, the city of Gothenburg ought to create a local food strategy that unravels the full potential of UA. Moreover, to create a local food strategy, a collaboration between several of the city's departments is needed.