JOHANNA OLOVSSON & FABIAN HEIN (2018)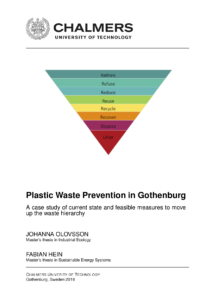 The applications of plastics seem unlimited but the material has been overused and side effects have been neglected. In Gothenburg, plastic litter as well as the increase in plastic waste and in the consumption of plastics are contradictory to the city's aim of a sustainable development. The current preference for plastic waste manage- ment instead of plastic waste prevention treats the symptoms and not the causes and moves the system into an unsustainable lock-in. The aim of this thesis is to understand how plastic waste can be prevented in the geographical region of Gothen- burg. A literature review, semi-structured interviews, data of a material-flow-model of Gothenburg, waste and litter statistics for the city and the backcasting method- ology were used to understand and evaluate the current system and envision what plastic waste prevention means in a sustainable future. Successful plastic waste pre- vention initiatives worldwide are investigated and compared to local ongoing waste prevention initiatives to evaluate possible implementations of initiatives currently lacking in Gothenburg.
The study shows that for a sustainable future, the way society thinks about plastic has to change. Also, some major regulatory changes are essential, and other minor legislative improvements could effectively contribute to tackle the plastics problem. Furthermore, five measures are suggested that could encourage plastic waste pre- vention in Gothenburg: (1) a package-free store, (2) adding an objective in the environmental goal of the city, (3) creating an online platform for information and innovation, (4) introducing a deposit-refund system for reusable coffee-cups, (5) ac- tions to raise awareness by promoting international theme-days on plastics, initiating public pick-ups and building a trash inceptor in the canal. These actions combine intervention on multiple levels of the system by targeting different groups. Thus, these actions address multiple parts of the complex problem in order to achieve a move up the waste hierarchy a long-lasting and significant impact.